It's that time of the year again! We're talking about the Mid-autumn festival (not December for Christmas yet) and all the notable mooncake shops/brands are already accepting early-bird preorders! Feedme Guru is here to show you some of the special as well as classic mooncakes to book in advance for your friends and family!
---
Four Seasons Hotel Mooncake 
Prepared by three Michelin-starred Lung King Heen, Four Seasons is offering an alluring selection of handcrafted mooncakes that one simply cannot refuse. There is a wide range of mooncakes to choose from, from the traditional White Lotus Seed Paste Mooncakes with Double Salted Egg Yolk, to the more modern Black Truffle flavour. One to pay attention to is the Five Nuts mooncakes which has always been a seasonal favourite, delicately designed by executive Chef Chan Yan Tak - a subtle hint of floral tartness that perfectly complements the nutty flavours.
Location: 8 Finance Street, Central, Hong Kong
Price:
Lung King Heen Five Nuts with Glazed Ham and Hibiscus Mooncakes - $508/box
Lung King Heen Cream Custard with Toasted Pine Nuts - $508/box
Lung King Heen White Lotus Seed Paste with Preserved Egg and Pickled Ginger $508/box
LungKing Heen Lotus Seed Paste Mooncakes with Salted Egg Yolk and Black Truffle $538/box
Lung King Heen Assorted Mini Mooncakes (includes Pickled Ginger/Five Nuts/Black Truffle) $538/box
Quantity: 6pieces/box
Four Seasons White Lotus Seed Paste with Double Salted Egg Yolk $498(4 pieces)
Discount: 20-49 boxes - 10 percent savings​​​​​​​, 50- 99 boxes - 15 percent savings, 100 boxes or above - 20 percent savings
---
Stellar House
"The best or nothing!" Handmade in limited batches, these traditional lotus seed paste and dozen salted egg yolks mooncakes are the LARGEST mooncakes you can find in Hong Kong. These special mooncakes are limited to 800 pieces, don't miss out!
Location(s): 
3/F, Chuang's Enterprises Building, 382 Lockhart Road, Wanchai
Price: $888
Order Now
---
SPCA x Garfield Mooncake

Would you lend those stray dogs and cats a hand? SPCA is serving some handmade Garfield Mooncakes to you, each box contains four lava custard mooncakes. 30% of the profit will be donated to SPCA for the expense of those strays.
Price: $298/box
---
Big Grains Mochi Mooncake 


Unlike the common mooncakes, Big Grain uses the French style cookie crisps as the outer layer while the inner fillings are contented with creamy and aromatic flavors (Earl Grey Tea, Coffee, Original Golden Custard) along with an additional layer of chewy sweet mochi texture. 
Location(s): 
Shop B, G/F, Fook Wo Building, 10-20 Tai Wo Street, Wan Chai, Hong Kong
G/F, 61 Parkes Street, Jordan, Hong Kong
Price: $358/box; Early bird offer before 1/9/2019 $268/box
Quantity: 6 per box, contains two of each mooncake flavors
---
Green Common Vegan Mooncake
Here we finally have some vegan-friendly mooncake with basically dairy-free, sugar-free and gluten-free options! It is also a lot healthier with less salt, less oil, and contains 58% (that's a lot!) less sugar than the traditional mooncakes. With two available flavors (Blueberry Mixed Nuts Vegan Mooncake, Date&Fig Vegan Mooncakes), Green common is now ready to accept preorders and generously offer some early bird promotions of this festive delicacy! 
Location(s): Check out their locations HERE 
Price: $248/box; Enjoy the early-bird offer from now until 31/8/2019
Quantity: 4 per box
---
Tak Shing Tea Stall Pineapple bun-style mooncake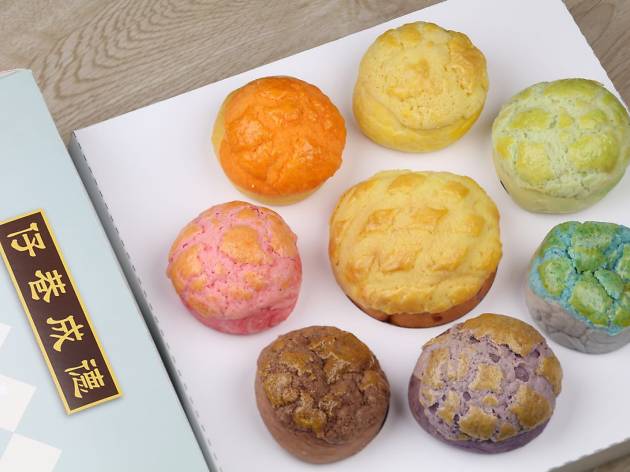 Tak Shing Tea Stall is now combining the classic representative of Hong Kong - Pineapply buns with mooncake! Seven unique flavors are designed to even enhance your celebration. From beetroot to strawberry; carrot to salted egg yolk' green tea to red bean' butterfly pea flower and blueberry; sweet potato to Ovaltine and last but not least, the good old fashion custard filling, Tak Shing only uses natural flavors and colorings for their good bakes. 
Location: Shop A-B, G/F,Ming Sun Building, 96 Tung Lo Wan Road, Tai Hang
Price: $98 per box
---
Jouer Mid-Autumn Macarons Set & Mooncakes Gift Box 
Get the taste of both Chinese and French in one single gift box from Jouer! From flavors like White Lotus, Custard, Mung Bean, 'Wu-ren' Nuts, Taro Jam, and Date Jam macarons to Mooncake flavors like Horlicks, Milk Tea, Dark Chocolate Bourbon Caramel and last but not least, Kaya and Salt, Jouer has always been offering premium and quality goodies to their customers with  prestige and absolute trust. 
Location(s): G/F Sau Wah Fong, Wanchai, Hong Kong
Price: $980/box; Enjoy the early-bird offer from now until 12/8/2019 $880/box
Quantity: 12 pieces of macarons and 8 pieces of mooncakes
Bulk order discount: 20 boxes 10% off
                                 50 boxes 20% off
---
Sino Hotels Signature Mooncake

We can never miss out the traditional mooncakes - white lotus seed paste and egg yolks! Sino Hotels serve one of the best classic mooncakes in town and on this blissful year, they even make purchasing mooncake more meaningful for a charitable cause. They are joining the ChickenSoup Foundation to share the festive delights with underprivileged children and youths. Choose either classic collection or fragrant collection (or just both!) for a better cause! 
Location(s): Check out your pick-up points HERE
Price: $468/box for Classic Collection (Mooncake redemption  from 15/7/2019 to 6/9/2019)
          $388/box for Fragrant Collection (Mooncake redemption from 9/8/2019 to 6/9/2019)

Quantity: Classic Collection: 4 pieces per box
                Fragrant Collection: 6 pieces per box, 2 pieces for                                                         each flavor
Bulk order discount: Up to 40% off (See complete offer HERE)
---
Starbucks
This Mid-Autumn Festival, Starbucks Hong Kong takes inspirations from customers' favorite Starbucks beverages to create two indulgent mooncake flavors : Mocha Mochi Mooncake, Black Tea Earl Grey Mochi Mooncake. Enjoy with aromatic tea or rich coffee for a joyous festive celebration with your family and friends under the moon!
Location(s): Starbucks Stores
Price:  $259/box
---
Venchi
With the brilliant moonlight, autumn breeze and bunnies joyfully hopping around the lotus pond. Venchi is once again going the Chinese tradition an Italian twist. Two new recipes of Chocolate Mooncake (the Ginger & Coconut Chocolate Mooncake and Earl Grey Tea Chocolate Mooncake) had been crafted as a genuine blessing for your friends and family!
Locations: Venchi Stores
Price: $398/$800
---
Spring Moon
This year, Michelin-starred Spring Moon culinary team and Chef Tang Chi Keung, Chinese Culinary Advisor for The Peninsula Hotels, have joined hands to craft this legendary treasure. First launched in 1986, Spring Moon's mini egg custard mooncakes raised the bar on this storied confectionary new height, blending eastern tradition with western culinary techniques to create something utterly decadent. Since then, the mooncakes' popularity and status have continued to rise, making them as sought-after as they are delicious. 
Location: The Peninsula Hong Kong, Salisbury Road, Tsim Sha                    Tsui
Price: $580/box
---
Lady M
 This year, Lady M has crafted a mooncake set that you can't take your eyes away from. Other than 8 mini custard mooncakes handmade by Michelin-starred restaurant Duddell's, the Zoetrope Mooncakes Set features a revolving optical device with the Jade Rabbit jumping towards the moon that will light up your moon-watching party in every sense! 
Location(s): Lady M Stores
Price: $528/box (Early bird: $498)
---
Looking for different cuisines in Hong Kong? FeedMe Guru is here offering the latest restaurants and special discounts to you. Stay tuned with us and you will never miss out any news.